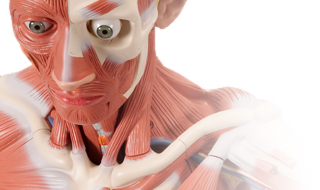 Human Anatomy
Human anatomy models, charts, posters and software products provide the perfect vehicle for your anatomy studies or teaching. 3B Scientific anatomical models are of medical school quality and include human muscle models, individual bone and joint models, spine and vertebrae models, human skulls, full-size and miniature skeletons, dissectible human torso models, brain models, models of the teeth, jaw ...
»»»

This heart models depicts the anatomy of the heart of a young adult with ventricles, atriums, valves, veins and the aorta. The front heart wall can be removed to reveal the chambers and valves inside. Heart comes with a multilingual product manual. Heart ...
Item: VD260 [1001246]
---

This anatomical chart shows the anatomy of the human teeth in detail. In addition to the anatomy of the teeth the poster also presents information about some common dental diseases. The poster is printed on premium glossy (200g) paper. Convenient Poster ...
Item: VR1261UU
---

Printed on premium glossy (200g) paper. Convenient Poster size 50x67cm (20x26'').
Item: VR1790UU
---

The Muscular System Study Cards are educational anatomy "Flash Cards". These human anatomy flashcards feature:

Clearly structured, inexpensive, effective flash cards for studying the human muscular system
Each muscle illustrated
...
Item: W11503 [1003741]
---

This respiratory system model facilitates learning about breathing and the anatomical complexities of the human respiratory system. Illustrated by the respiratory system activity set is a cutaway section of the upper human torso and head, enlarged image ...
Item: W40202 [1005471]
---

The composition of teeth is easily illustrated in this teeth model activity set with this three-dimensional model. A side view of upper and lower teeth provides three models in one teaching tool. The teeth model together with the activity guide and transparency ...
Item: W40209 [1005478]
---